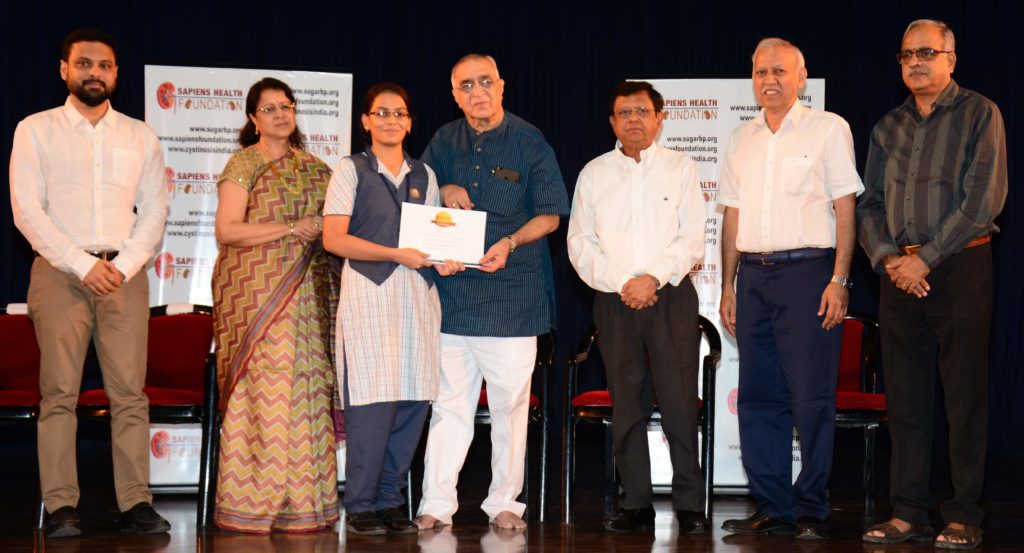 Sapiens Health Foundation, a NGO functioning from Chennai held an essay writing competition on 'Salt in Diet and Health'. Nine schools in Chennai participated in the competition. 117 essays were received. Five prizes were distributed. Miss. M Anisha Shabnam from Alagappa Matriculation Higher Secondary School, Purasaiwakkam won the first prize.
Mr. K.N. Ramaswamy, director of the Bharatiya VidyaBhavan, Mylapore,Chennai was the chief guest who presided over the function held on 10th Jan 2020 at Chennai, lauded the initiatives and praised the efforts of Sapiens Health Foundation in promoting health awareness among children.
Rtn. Dr. Vijaya Bharathi Rangarajan, President, Rotary Club of Madras, Mr. P.N. Mohan, Past President of Rotary Club of Madras and his colleague were guest of honors. A humorous skit on the subject was enacted by Nalamdana theatre group.
Sapiens Health Foundation has been campaigning throughout the country for reducing salt intake in the population for the last 11 years. Awareness lectures, posters and propagation on Reduced Salt in diet through media have been carried out extensively. Dr. Rajan Ravichandran, Chairman, Sapiens Health Foundation was awarded the Notable achievement award for salt reduction in the population by World Hypertension League in 2014. Mr. R.Sundar, the trustee of the foundation spoke and conducted the event.