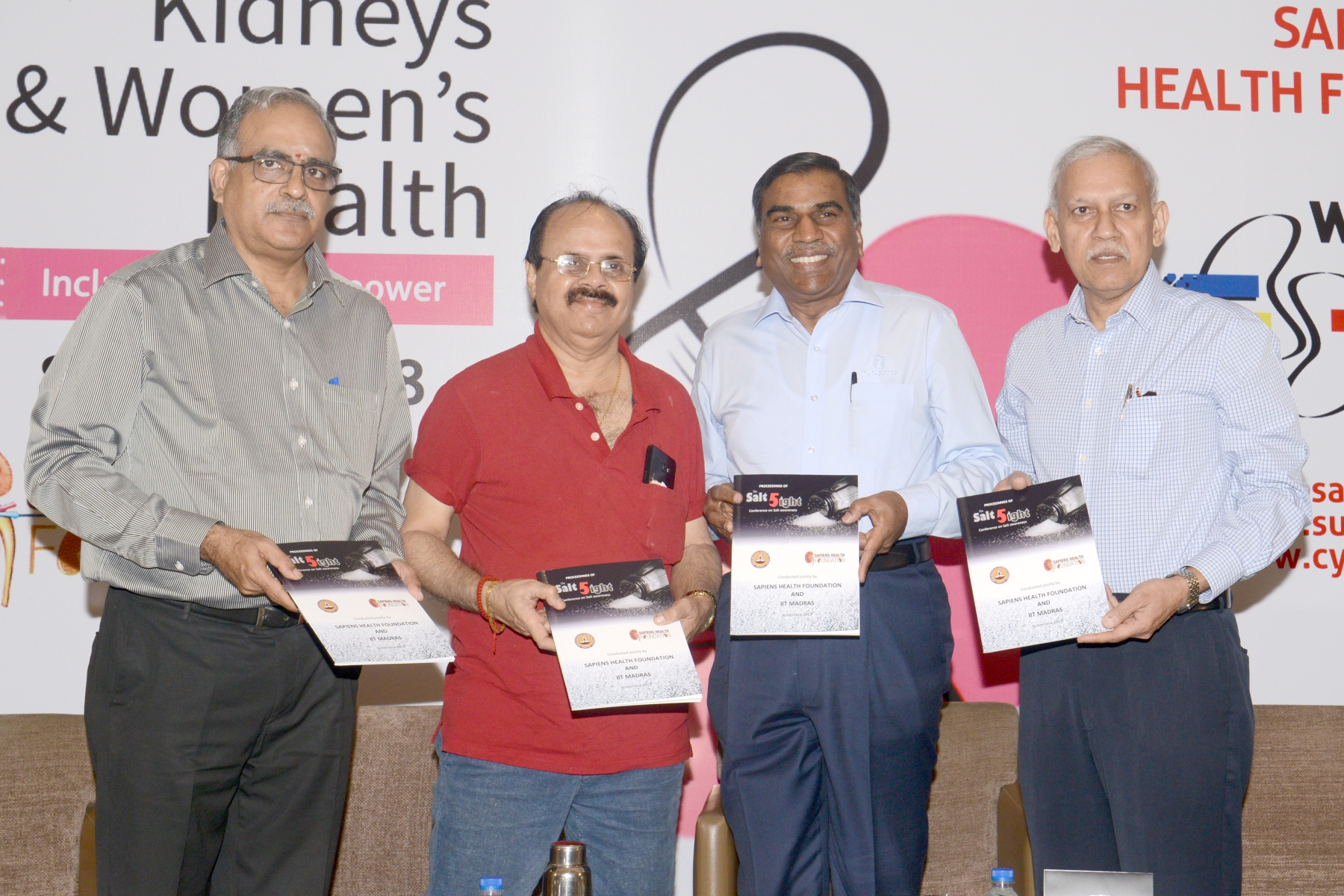 World Kidney Day 2018 was celebrated by Sapiens Health Foundation at Chennai. The chairman of the foundation Dr. Rajan Ravichandran highlighted the theme "Kidneys and Women's Health". About 600,000 women die every year due to kidney failure all over the world. This is little more than the number of men dying of kidney failure. Apart from the fact that women suffer from certain diseases affecting the kidney more than men, it could be the lack of treatment in women as a possible reason. This is especially so in our country where there is a gender bias and the working men get better treatment than women. Urinary Tract Infection are more common in women due to the short urinary passage. Systemic Lupus Erythematosus (SLE) is a disease peculiar to young women damaging the kidneys. Pregnancy also tends to worsen kidney disease.
The function started with the release of the book "Proceedings of the Salt conference 2017" held by the foundation jointly with IIT Madras. The book was released by the chief guest Mr.MM Murugappan, chairman of the Murugappa group of companies and the first copy was received by Crazy Mohan. The book release was followed by a humorous skit in Tamil by the Nalamdana group creating awareness for prevention of kidney disease. The function concluded with various patients sharing their own experience in battling kidney disease.
Sapiens Health Foundation is a NGO functioning from Chennai for the last 20 years. The foundation has been helping kidney failure patients with medications and education. The unique programs of the foundation are the self detection of kidney disease, assisted peritoneal dialysis and treatment of a rare disease called Cystinosis. For the last 5 years the foundation has been aggressively campaigning for reduced salt consumption in the Indian population.